On Saturday Fi and I went for a therapeutic day trip to Castlemaine. We set off armed with an MP3 disk full of musicals, and headed up,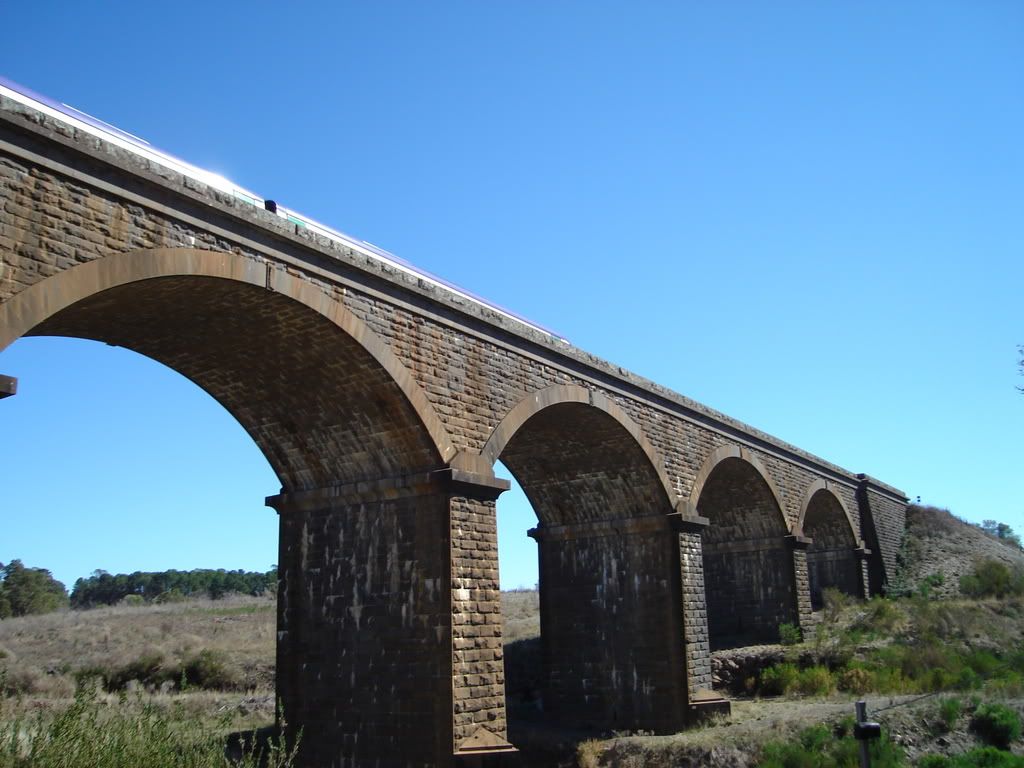 stopping briefly at Malmsbury to show Fi the old rail bridge there (still in use, as shown by the photo taken on a previous visit). I thought Fi would like it given her appreciation of old architecture and stonework.

Once we got in to Castlemaine we went to Saff's cafe for a nice lunch
in the garden then headed over to mum's, where Fi spent some quality time with Caramel, her cat whom mum adopted when Fi had to find a new home for her, and also met the kids, now 5 [I stand corrected - 7] weeks old and getting really big.


After getting Fi acquainted with mum's livestock, we headed across the block to check out the new arrivals next door, a Shetland pony mare and foal, and also introduced Fi to billy
Blackadder , Ruby and Rowans father [pictured]; heavily pregnant doe Nelly; and India and Scarlett, last years goatlets.


When Fi had had enough we headed back onto mum's block, and spotted these two fly-ins by the dam, dubbed Fred and George by mum. Apparently they have been visiting mum quite regularly.


Once we got back to the house Fi gave Ruby her bottle
, and we spent some time relaxing in the sun and taking in the country air and view before heading home. The trip home was spent singing along with Chicago, Rent, and The Producers. Nice to have people around who are nuts about the same stuff. I dropped Fi back and hung around until it was time to pick Chris up from work, then headed home where the cold that had been looming all day came out in force, and I've been forced into taking it easy since then. My head was far to fuzzy to post yesterday, and is still pretty bad to tell you the truth, so you'll have to excuse me if this isn't the most eloquent post.

til next time
xo